Message from the Msgr. Kenneth Schwanger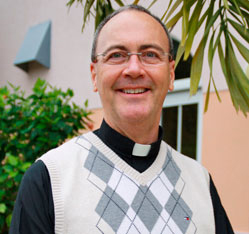 My Dear Family of Our Lady of Lourdes,
Our life in Christ here at Our Lady of Lourdes is empowered each day by the "parish pillar" that is our weekly Holy Hour. During that hour we are each praying for the intentions and mission of our brothers and sisters in the parish family. It is our great gift of intercessory prayer and its power to heal and give life is beyond measure. As is true of all acts of love, it overflows itself and its blessings continue to spread.
Many of our parish groups have specific ministries within their mission of intercessory prayer for their members and for those whom they serve. Two of our newest ministries of intercessory prayer have developed within the Famille Notre Dame de Lourdes and the Hospitalite de Miami. Their intercessory prayer is a graced expansion of their gift of themselves to help the sick and the suffering journey to Christ for healing.
Ivan Santos, one of our newest Ecclesial Lay Ministers, has felt the call to help us unite and integrate this powerful life of prayer in our parish family to expand its reach. In the days ahead he will be helping us to reach out to all those in need, to receive their requests for prayerful support and to engage all of our teams of intercessory prayer in bringing them to Christ, a united and full-throated cry to the Lord in faith.
Let us keep Ivan and his mission in our prayers and be ready to respond when he calls. St. Teresa of Avila reminds us that God wants us to intercede for each other and is ready to answer when we call.
Msgr. Schwanger
Pastor