Mass Schedule
Weekday Masses and other events are being broadcasted here. Check the times in the table to the right.
Click on the icon

at the top corner right of the screen above, to watch recorded Masses.
Weekday Masses
Monday - Saturday
8:00am
Church
English
Monday - Friday
7:00pm
Church
Spanish
First Saturday of the month
9:30am
Church
French
Weekday Masses
Saturday Vigil
5:00pm
Church
English
6:30pm
Church
Spanish
Sunday
7:15am
Church
English
8:30am
Church
Spanish
10:15am
Church
English
11:45am
Church
English
1:30pm
Church
Spanish
5:00pm
Church
English
6:30pm
Church
Spanish
Confession Schedule
Every day
An hour before daily Masses.
Saturday
3:00 - 3:45pm
Face mask required
The Pillars of Our Parish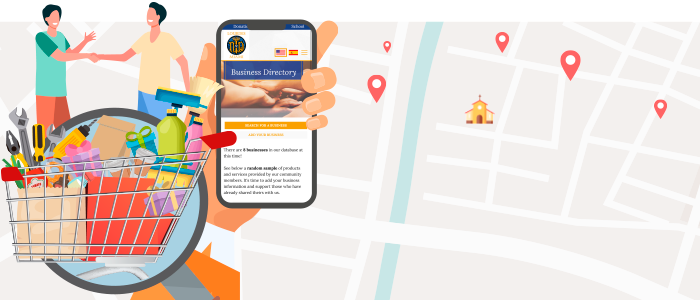 Everyone Wins
Business Directory
When we think act together as a community, everyone wins! It's free and easy!
Otero Mortgage Group/PRMG

Mortgage Lender
(305) 733-4629
My Company is a direct lender who specializes in mortgage finance through purchase loans and/or refinancing of current homes. I am detailed in all aspects of the home buying process. My company is equipped with assisting in homeowners insurance, home inspections, and real estate needs. My company can help any buyer or homeowner satisfied their needs in whatever they are looking to do. We also assist in first-time home buyer programs as well.
Load Hunter Inc

Transportation Service
(877) 324-5623
We are a small logistics companies that serve semi-truck's owner operators find loads to transport across the United States.
Peters insurance & Financial Services

Auto Insurance Agency
(305) 275-5585
We are a privately owned insurance agency that acts as your personal risk manager. We offer Auto Homeowner Life and Health insurance for Florida families. We are committed to providing specific solutions. No cookie cutter solutions
Law Office of Silvio Amico

Bankruptcy Attorney
(305) 596-4774
Areas of Practice Consumer Bankruptcy – Chapters 7 and 13 Commercial Bankruptcy – Chapter 7 Family Law Dissolution of Marriage Pre-Nuptial Agreements Post-Judgment Issues (Modifications/Enforcement) Paternity Cases Real Estate Matters Transactional Preparation of Deeds and Supporting Documents Wills and Powers of Attorney Business Transactions Purchase and Sale of Business Assets Contract Preparation and Review Corporate Matters Incorporations Book Management Shareholder and Member Management Agreements
Above is a random sample of products and services provided by our community members.