Mass Schedule
Weekday Masses and other events are being broadcasted here. Check the times in the table to the right.
Click on the icon

at the top corner right of the screen above, to watch recorded Masses.
Weekday Masses
Monday - Saturday
8:00am
Church
English
Monday - Friday
7:00pm
Church
Spanish
First Saturday of the month
9:30am
Church
French
Weekday Masses
Saturday Vigil
5:00pm
Church
English
6:30pm
Church
Spanish
Sunday
7:15am
Church
English
8:30am
Church
Spanish
10:15am
Church
English
11:45am
Church
English
1:30pm
Church
Spanish
5:00pm
Church
English
6:30pm
Church
Spanish
Confession Schedule
Every day
An hour before daily Masses.
Saturday
3:00 - 3:45pm
Face mask required
The Pillars of Our Parish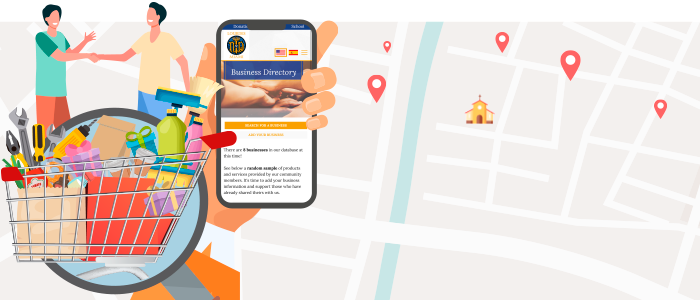 Everyone Wins
Business Directory
When we think act together as a community, everyone wins! It's free and easy!
ZOLD REALTY GROUP

Real Estate Agency
(305) 800-9653
We are Miami's #1 Trusted Family Real Estate Team. The Broker/Owner, Carlos R. Salazar, along with his wife Marta and their children are committed to giving personal expert real estate guidance to those needing to sell or buy a home. Our family understands that buying or selling real estate is more than a transaction. We are obsessed with your complete satisfaction and approach every client and every deal as though we were dealing with family. We're a small and specialized family boutique real estate brokerage and strive for personalized attention catered to your specific needs and goals. There is no red tape when you have a question or an issue. We are available to you when you need us. OUR SUCCESS IS BASED ON OUR COMMITMENT TO ONLY WORKING WITH A LIMITED NUMBER OF ACTIVE CLIENTS, IN ORDER TO ASSURE AN EXCELLENT AND PERSONALIZED CLIENT EXPERIENCE. We are dedicated to providing exceptional and personalized service for all of our clients. We take great pride in the relationships we build and always work relentlessly on the client's behalf to help them achieve their real estate goals. Today's buyers and sellers need a trusted resource that can guide them through the complex world of real estate. With our extensive knowledge and commitment to providing only the best and most timely information to our clients, Our Family team is your go-to source for real estate industry insight and advice.
Load Hunter Inc

Transportation Service
(877) 324-5623
We are a small logistics companies that serve semi-truck's owner operators find loads to transport across the United States.
Comfort Phlebotomy Services

Laboratory
(786) 554-3092
Above is a random sample of products and services provided by our community members.