Message from the Msgr. Kenneth Schwanger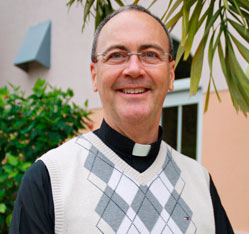 My Dear Family of Our Lady of Lourdes,
Don't believe it when people say things slow down in the summer. Here at Our Lady of Lourdes life keeps on moving!
Firstly, let us give thanks to God for having had the blessing of Fr. Rumin with us. He has been with us only a short time, but I expect God was just making the introduction for us this year and that we will have much more time together as life progresses. And I expect God has something special in store for him at St. Joseph's. Imagine starting a new assignment to the parish of St. Joseph in the year of St. Joseph and on Father's Day!
Secondly, we will have another newly ordained priest with us at Our Lady of Lourdes, Fr. Alberto Chavez. We get to meet him and find out more about him next weekend. Fr. Alberto joins us at Our Lady of Lourdes on Father's Day weekend. For him, too, what a confirmation of his vocation and wonderful way to start!
We look to have both Fr. Rumin, and Fr. Alberto join us on the Annual Archdiocese of Miami Pilgrimage to Lourdes. Fr. Rumin can bring his new parish family with him! Fr. Alberto will be with us and Bishop Delgado for the September pilgrimage. I hope to be in Lourdes next month for the first leg of the pilgrimage and to prepare things for September.
We will be collecting petitions to take with us in July to the Sanctuary of Lourdes on the weekend of June 26th and 27th. We will also be collecting them at the Healing Mass and Rosary Candlelight Procession on August 14th, the Vigil of the Assumption, to take with us in September.
As we recover from the pandemic we expect the pace to keep picking up.
Come and join us!
Msgr. Schwanger
Pastor